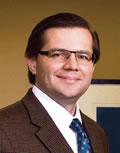 Dr. Byskosh has been board certified in otolaryngology—head and neck surgery since 1998 and practices all aspects of this specialty. He underwent undergraduate studies at Northwestern University in Evanston in 1988 through the six-year Honors Program in Medical Education. In 1992 he graduated from the Northwestern University Medical School in Chicago.
Surgical residency was completed at the Northwestern University in 1994. Following this he did a three year Otolaryngology—Head and Neck Surgery residency at Northwestern University through Northwestern Memorial Hospital. During medical school and residency Dr. Byskosh worked on multiple research projects involving dizziness, middle ear surgery, pain management, sinus disease and has published research articles.
He completed residency training in 1997 and since that time has worked in private practice in the suburbs of Chicago. He is devoted to providing the most up-to-date expert care possible.
Dr. Byskosh is a member of American Academy of Otolaryngology—Head and Neck Surgery.